Browse:
Home
/
sex addiction
By admin on September 7, 2011

Gwyneth Paltrow has a habit of sayings things that inspire me to take notes, fill a bulletin board with theories, and question my own feelings. Today's incendiary soundbite: a seemingly off-the-cuff remark from the Cee Lo foil regarding the roles she takes: "I have little kids, and I'm a full-time mom. I really only do small parts." Considering her role in Contagion is a short one — she's only in the first 15 minutes — and her newly announced ensemble role in Stuart Blumberg's upcoming sex addiction comedy Thanks for Sharing, is it possible that we should be mourning her status as a leading lady? Will you attend the memorial?
Because I will! As much as Gwyneth Paltrow polarizes movie fans, she was so memorably effective in Emma, Proof, and Shakespeare In Love (her Oscar-winning performance, of course), that I can hardly imagine watching her in mainly supporting roles — even if her streak of minor parts only lasts a few years. I recommend Paltrow follow the lead of frequent birth-giver Nicole Kidman, who simply passed up most films for a couple years before returning in startlingly mature works like Rabbit Hole. Which reminds me: Do I have to keep pimping Rabbit Hole? Please drop everything and see it, unless you hate convincing dramas full of real-seeming adults.
On the other hand, I'd prefer Paltrow avoid the post-baby track of Julia Roberts, who seems attracted to lighter, inconsequential movies these days. Or terrible movies, really. An absence from the screen is best succeeded with roles that declare self-possession and professionalism, not high-profile banality. Here's hoping Paltrow comes to re-own her marquee greatness.
• Gwyneth Paltrow Talks Balancing Movies With Motherhood, Parties With Beyoncé In Venice [HuffPost]
Full Story »
Posted in Celebrities Gossip, Celebrities Video, Celebrity Galleries, Celebrity Gossip, Celebrity Rumors, Featured Posts | Tagged bulletin, Habit, sex addiction, shakespeare in love, Status, stuart blumberg | Leave a response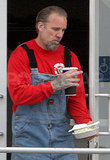 By admin on April 28, 2010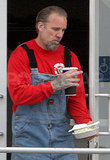 Jesse James also opened up to People to share his side of the story about his divorce from Sandra and the adoption of baby Louis Bardo Bullock/a. He was spotted grabbing food from his Cisco Burger restaurant in LA yesterday, but he spoke to the magazine earlier and revealed he now has a huge hole in his heart.
My whole life has been full of hard decisions. The decision to let my wife end our marriage, and continue the adoption of Louis on her own, has been the hardest. The love I have for Louis cannot be put to words. Not having him around to love and to hold has left a huge hole in my heart. Sandy is the love of my life, but considering the pain and devastation I have caused her, it would be selfish to not let her go. Right now it is time for me to beat this addiction that has taken two of the things I love the most in life.
I have always taken great pride in proving people wrong. That time has come once again to show that I am not what everyone says I am. I know in my heart that I can be the best father possible to my four children, and the mate Sandy deserves, and realize that this is an incredible mountain to climb. But I believe that the steps I have taken in the last 30 days are the foundation for making this happen. The lifelong commitment I am making is what being a real husband and father is all about.
I ask that you please do not judge Sandy for the things I have done. She has done no wrong. She played no part in any of this. She has been an amazing wife, mother, and…
Full Story »
Posted in Celebrity Clothing, Celebrity Style | Tagged baby louis, heart, hole in my heart, love, sex addiction, story | Leave a response